Jul 1, 2020 11:30:31 AM · 1 min read
[vimeo 434464047 w=640 h=542]
One of the most requested features that we hear from users of PCS Spark and ALEX is the ability for learners to order labs and imaging for their patient. Over the past couple of months our development team has been hard at work to make this feature request a reality. This morning we released our latest update to the PCS Cloud which adds Labs/Orders and we think you are going to love it. Here's a quick peek at how this new functionality works.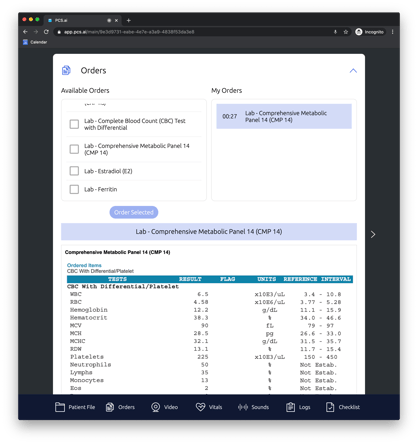 We've added a new menu bar option at the bottom of the screen titled "Orders." Anytime during a simulation learners can click on the Orders button to see the available orders for the presented patient case.
From there they simply check which order they think will be helpful in diagnosing the patient and click Order Selected. The selected orders will then be made immediately available to the learner and a timestamp will be recorded of exactly when during the simulation an order was placed.
Orders can be made up of simple text or images to cover virtually any scenario you want to simulate.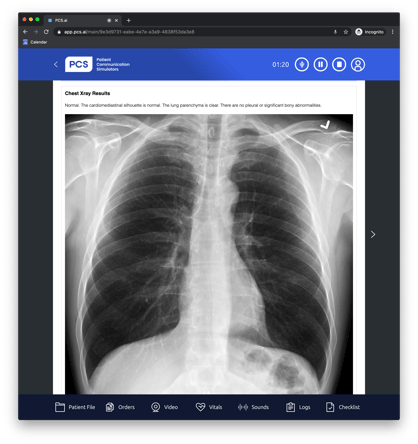 Adding labs and imaging to your custom patients couldn't be easier with our updated content authoring tools. Simply choose from an existing lab/order template or create your own and add custom text, images or both.
That's not all we've added with this update though! We've also greatly expanded on what's possible when performing a physical exam on your virtual patient.
Now learners can look at the eyes, ears and mouth of the patient, check their temperature and even palpate different areas of the body. Similar to orders, all physical exam findings can be completely customized in our powerful patient scenario authoring tool to match the patient case you want to create.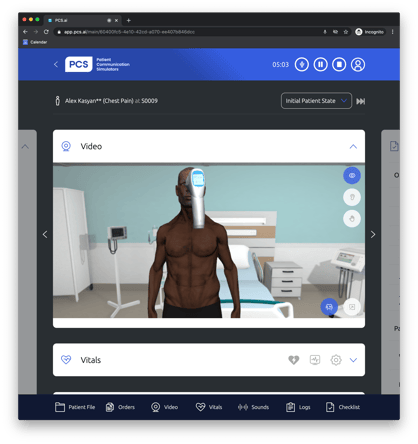 We hope these new features will enrich your students' learning experience with PCS Spark and we can't wait to see what you'll do with them.
Not a PCS user yet? Let's get in touch and we'll show you how PCS Spark, Plus and ALEX can integrate with your existing curriculum today!