May 6, 2021 2:46:12 PM · 2 min read
Who remembers the keynote speaker Regina Holliday from IMSH 2017? Maybe a better question to jog your memory: who remembers openly weeping in front of 2,600+ healthcare simulation peers in an auditorium in Orlando? The conference theme was Patients: The Heart of Simulation. Mrs. Holliday delivered an incredibly inspirational and moving keynote about her husband's passing from kidney cancer, and the importance of patient advocacy. Whether you were crying from heartache or white hot anger over what the Holliday family had to go through, there was not a dry eye in the house. No other article, presentation, or keynote about patient advocacy has imprinted on me more than this one.
As we approach Mother's Day in the United States*, it occurred to me I used to limit my thinking around who could serve as a family member patient advocate. By default, the role would be filled only by spouses or partners. What I realized now as a mother of three children, it's oftentimes mothers who are our first patient advocates. Embarrassingly, I didn't realize it until my second child was born. My son was the picture of good health, we only saw the inside of the pediatrician's office for well visits. My daughter was a different story, she seemed more susceptible to illness. I recall one well-visit with my son where it was actually my daughter who was diagnosed with her umpteenth ear infection. I keep file folders of all the kid's health related records, and hers… well, it's thick.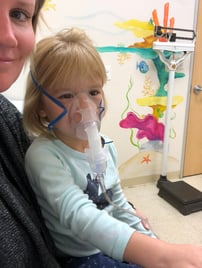 Right now, at their young age, my role as a mother involves being their patient advocate. And today – plot twist – my role as Head of Content at PCS is making me a better parent/advocate by osmosis. Everyday, my team and I build and train our artificially intelligent digital patients to understand clinical interview questions that may be asked by nurses, doctors, pharmacists, and other providers in a healthcare setting. Regularly, my nightly reading is the common medical school textbook "Bates' Guide To Physical Examination and History Taking", and lately the DSM-5 as we build patients with mental health concerns (…I digress). As I better understand what questions might be asked of my digital patients, I better understand what questions will be asked of me as a parent patient advocate; thus, I can better observe and prepare for when my daughter and I are sitting on the exam table.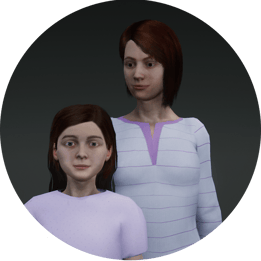 When our CEO informed me that we would be designing and deploying a mother and daughter avatar several months ago, I knew just what patient story I would tell first. Life imitates art, and art imitates life. One of our newest pieces of content is a young girl presenting to the Emergency Room with acute respiratory distress. This young girl and her mother are loosely based on me and my daughter on one worrisome evening.
On Sunday, a heartfelt thank you to our very first patient advocates, our mothers: biological, adoptive, and chosen.
To my mother Gayle Gliva McConvey, former Director of the Sentara Center for Simulation & Immersive Learning at Eastern Virginia Medical School and lead editor and author of Comprehensive Healthcare Simulation: Implementing Best Practices in Standardized Patient Methodology, thank your being my first patient advocate and continuing to be my biggest life advocate.
And to the marvelous mothers I met through healthcare simulation and found lifelong friends: Pamela Azevedo, Cathy Deckers, Judit Vigh and Amanda Wilford.
Happy Mother's Day and a *belated Happy Mother's Day to our International Mothers.